We from One Earth – One Ocean are people, who want to actively establish a clean environment. 

Maritime waste collection
With maritime waste collection, One Earth – One Ocean e.V. (oeoo) has developed a comprehensive and pragmatic concept for the collection and sustainable recycling of marine litter. oeoo thus demonstrates an already proven solution to one of the biggest global environmental problems. Plastic waste from the sea is a valuable recyclables.

The concept is to collect, sort and process plastic with special waste collection vessels in coastal and estuary areas. In addition to pure plastic bales, which can be fed back into the recycling, energy and fuel will also be extracted from plastic waste at a later date.

The maritime waste collection includes two waste collection vessels of different sizes, the SeeHamster for use in inland waters, as well as the SeeKuh in coastal regions on seas, which in a few years partly fully automatic and powered by modern wind and solar technologies independently collect plastic waste from the waters. The plastic waste at sea is finally taken to the waste recycling vessel SeeElefant and recycled there or transformed into sulphur-free heating oil.

oeoo has prepared a professional feasibility study for the concept of maritime waste collection with all its components. The cleaning concept of oeoo focuses primarily on waste hotspots such as estuaries and coastal areas, where pollution concentrations are highest and plastic waste is still relatively undivided and can be found floating on the surface, often actually as a garbage rug. Here, accessibility, logistics and energy expenditure of the waste collection can be mastered. Examples include the estuaries of top polluter rivers such as the Yangtze, Ganges, Brantas, Mekong or Pasig, and the coasts off megacities such as Jakarta, Hong Kong or Rio.

The concept of oeoo's maritime waste collection shows how relatively simple, inexpensive and proven means can be used to tackle and actively combat the collection of plastic waste in the seas – especially in the waste hotspots worldwide. Plastic waste could be removed from nature before it is crushed into microplastics or sinks into the depths and damages the environment for centuries to come.

People around the world are called upon to finally actively combat the pressing human problem of marine littering.

In 2013, OEOO was awarded the prestigious GreenTec Award, Europe's largest environmental and economic award, for the concept of maritime waste collection.
In 2016, he was nominated for the Federal Ecodesign Award, the highest award for ecological design in Germany.

The SeeHamster
SeeHamster are the smallest unit of "Maritime waste collection" vessels, compact catamarans with a length of about 4.5 meters and a width of 2 meters and a low draught. They formed the first practical implementation in 2012, with which the functionality of the collection concept was tested in reality. SeeHamsters are used in inland waters such as lakes and rivers worldwide.

Initially, SeeHamster worked with a fold-down fishing net to collect the (plastic) garbage. Over the years, the cleaning concept has been adapted to the prevailing needs on site: in the meantime, ramp and conveyor belt constructions are also used. SeeHamsters have a collection capacity of up to 500 kg.

In 2020, the fifth improved generation of SeeHamster ships was put into operation in Cambodia. So far, they have been working with conventional outboard motors. The project on Java will use electric motors for the first time, which are refuelled with solar energy.
SeeHamster are currently in use in Germany as well as in Cambodia and Indonesia. Another specimen for Egypt is already under construction.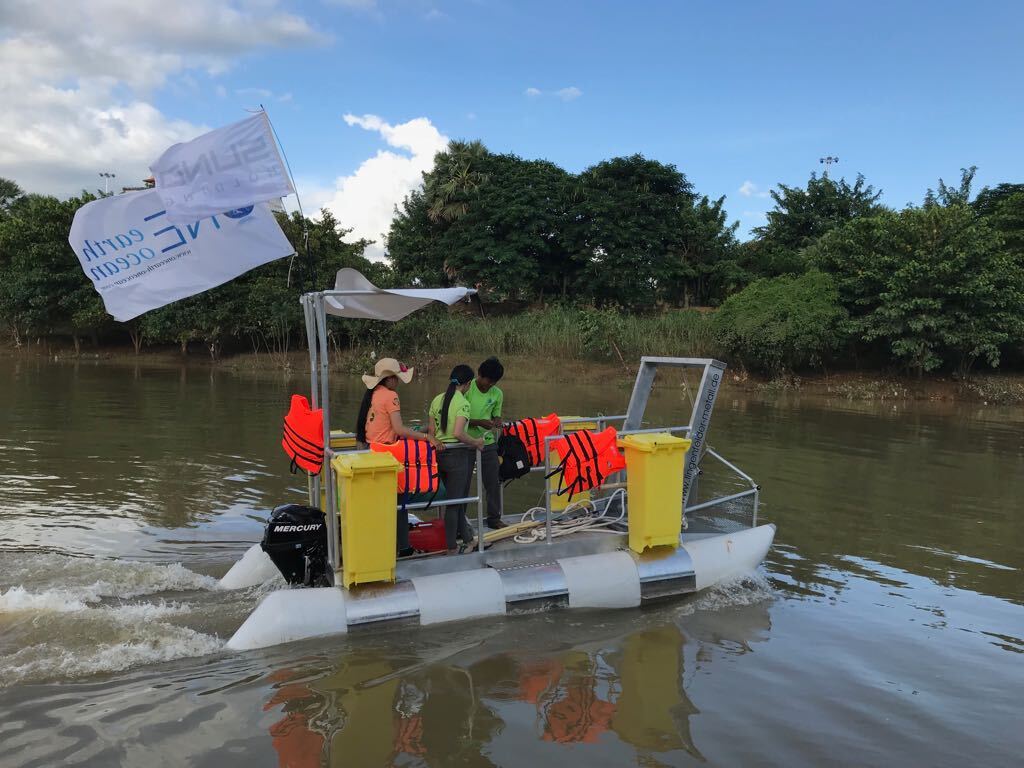 The first model of the SeeHamster 1 - an idea begins to mature.
Photo Credits by: ©oneearthoneocean
https://oneearth-oneocean.com/